Websites for pubs and restaurants
Get busy.
Stay busy.
Keep costs down.
Your pub or restaurant found in Google with a website that is geared to helping you succeed. A website that works perfectly on a PC and a mobile phone.
If you're serious about your business, you need a website that supports your marketing.
Websites4pubs is the most powerful marketing tool you'll need.
CURRENT FEATURED SITES:
The Banbury Cross
"We need it to look like we're a sports bar style, vibrant and lively"
New logo and posters designed and a complete change - bang on.
sports bar,new logo, entertainment
The Dragoon
Traditional English Country Inn. The sort of place you drive past, stop and turn around and be glad you did.
food,real ales,live sport,family pub
The White Horse
Classy refurbished establishment bringing a lovely contemporary feel to a suburban area and a pub the community can be proud of.
food,real ales
BIG BENEFITS
Facebook updated automatically with your events, menus & more.
Table bookings without any fees.
Reward schemes without additional costs.
Update your content whenever you want.
Optional content support service.
Support that is FREE
Your website under your control
Website designed to your style.
Like many systems we have a template structure, but unlike others ours is far more customisable.
There's no need to look like everyone else.
You are unique so keep your identity.
You manage it.
Add your events, posters, menus, real ales... really quick.
Sports fixtures added with a single click. Real Ales, Ciders and Craft Ales all looked up from an extensive database.
All your enquiries and bookings at the tips of your fingers.
Save time.
Content added to your website can appear instantly on your Facebook page. Your customers can even book a table from Facebook.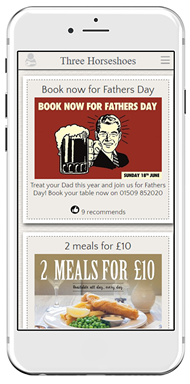 A beautiful, functional mobile website is essential
Content Support Service
Just email us the content and we'll manage it for you. From style changes to menu updates we'll do the lot. This is an additional service for just £10pm.
Advanced Features
The basic features you need, plus the ones that can power you to success.
EXCLUSIVE FEATURES.
Online Table Booking
Loyalty Reward System
Online Food Ordering
Automated Birthday Offers
Social Link Pro
Dedicated Mobile Friendly Website
Connect. Everywhere.
Social Media

3rd Party Services

Push your badges