Offer Vouchers for Pubs and Restaurants
Create your own offers, with full tracking
When you run a pub or restaurant you'll no doubt want to attract customers with special offers. Especially existing customers. You'll find websites4pubs helps in three key ways. Signups, Birthdays and General offers.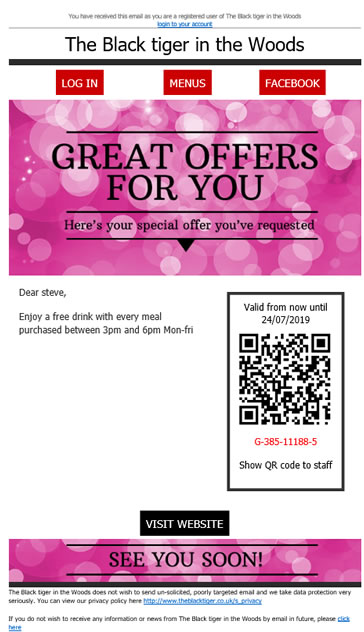 Signup Offers
Encourage customers to signup to your website. Once registered they are there for you to market to as and when you need.
Automated Birthday Offers
Fire and forget. Set it up and when it's birthday time the system will email them automatically.
General Offers
Run as many offers as you can handle. All offers are validated using QR codes, just like the reward system.
How it works:
Choose from a variety of cool starter templates.
Add your offer details
That's it!
A bit more detail
Emails are sent via a tracked delivery service
General offers can be restricted for registered users only.
Include QR codes in the emails to redeem the offer so you can accurately account claims and redemptions.
Benefits
Simple to use
Easy to administer
Automated
More details needed? contact us!
---
Automated Birthday offers for customers. You get that with websites4pubs.