Online Food Ordering for Pubs and Restaurants
No hassle for customers, better for you.
Online food Ordering
Any unique selling point to get customers into your pub and not next door is worth taking seriously. In fact the competition isn't so much the pub next door - it's fast food places, sandwich bars and the like. Why? convenience and speed. Too often people have time for pint, or a meal, rarely both.
Get those lunchtimes busy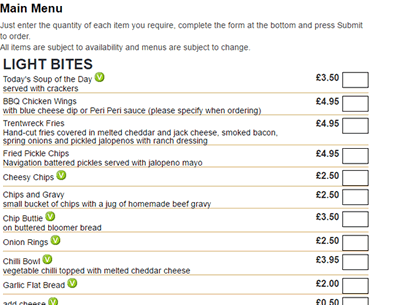 Just send a few flyers to local businesses and let them know they can pre-order their lunchtime in advance.
You'll be surprised how quickly word of mouth spreads when customers enjoy a nice easy lunch.
It's a system that's been core to websites4pubs for many years, trusted by many of our clients to get customers in.
When you receive an order it's over 90% complete. By not trying to be clever or complicated with too many options or variants, you'll get more orders. You'll receive an order like below, to which you confirm or reject.
Because we recommend you confirm all orders by phone, you'll soon establish familiar and regular custom.
HOW MUCH IS THIS FEATURE?
It's all part of your websites4pubs subscription.
---
How it works:
Enter your menus online rather than upload a PDF
There's a variety of options:

Veggy flag
Gluten Free flag.
Smaller portion prices.
Allergens
Takeaway/Delivery
A bit more detail
Customer enters order on website
You receive order alert via email and text alert
Confirm or reject order
Benefits
Captures new customers
No 3rd party required
Fully integrated within your website
More details needed? contact us!
---
Online food ordering for pubs and restaurants. You get that with websites4pubs.